Czech police also said later they were seeking two Russians in connection with the blast, which killed two people, with passports used by the suspects in the attempted poisoning of former Russian double agent Sergei Skripal in 2018.
According to a statement from the Czech authorities, the two Russian nationals were in the country in October 2014 - first in Prague, and then in the Moravian-Silesian Region and the Zlin Region.
Czech authorities today accused the men of causing an explosion on October 16, 2014 at a warehouse with 58 tonnes of ammunition.
The Czech police added that the men are known to be carrying various passports, including Russian passports with Petrov and Boshirov's names.
They and Moscow both denied involvement. Two men died as a result.
Czech police say the men were in the Czech Republic between October 11 and October 16 of 2014, and added they also carried passports from Moldova and Tajikistan, under the names of Nicolai Popa and Ruslan Tabarov respectively.
The Czech Republic expelled 18 Russian embassy staff on Saturday over the suspected involvement of Russia's intelligence services in a 2014 ammunition depot explosion that killed two people.
"Eighteen employees of the Russian embassy must leave our republic within 48 hours", Foreign Minister Jan Hamacek told reporters.
"There is well-grounded suspicion about the involvement of officers of the Russian intelligence service GRU, unit 29155, in the explosion of ammunitions depot in the Vrbetice area", Babis said.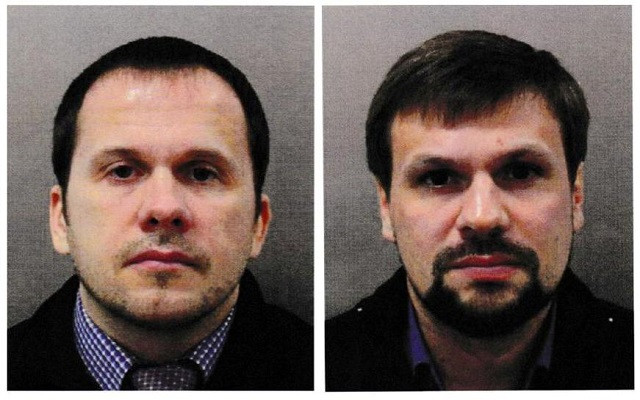 Czechia expels Russian diplomats over 2014 ammunition depot blast
Babiš said he had spoken about the case with the European Council President Charles Michel and would inform EU partners in detail at the next formal leaders' summit, scheduled for late June.
The Czech Republic has expelled 18 Russian diplomats in retaliation. Hamáček said he had cancelled a trip to Moscow to negotiate the purchase of the Sputnik V coronavirus vaccine for use once the European Medicines Agency has signed off.
In response to the Czech decision, Russian Foreign Ministry Spokeswoman Maria Zakharova was quoted as saying on Saturday by TASS news agency that "Prague is well aware what follows such "tricks".
The 18 expelled Russian embassy personnel had been identified by Czech intelligence as members of Russia's GRU and SVR intelligence services. "We appreciate their significant action to impose costs on Russian Federation for its risky actions on Czech soil".
In an interview conducted for the Andrew Marr Show on Friday, Russian Ambassador Andrei Kelin said he had not seen Raab for more than a year.
"Any such act, if finally confirmed, must have clear consequences", he said.
While Russia routinely shrugs off espionage allegations as part of an "anti-Russian campaign" orchestrated by the United States or Britain, analysts say that covert Russian activities in Europe have hit a new post-Cold War peak.
The Czech announcement came two days after the United States said it was expelling 10 Russian diplomats and imposing sanctions against several dozen people and companies, holding the Kremlin accountable for interference in last year's presidential election and the hacking of federal agencies.
Czech Republic expels 18 Russian embassy staff
The explosion happened on 16 October at a depot in the town of Vrbetice where 50 tonnes of ammunition was being stored. A local woman, Dawn Sturgress, died months later after being poisoned by nerve agent in a discarded perfume bottle.