Alireza Zakani, the hard-line head of the Iranian parliament's research center, referred to "several thousand centrifuges damaged and destroyed" in a state TV interview.
The attack took place in a facility up to 50m (165ft) underground, another official said.
Tehran has said an explosion on Sunday at its key nuclear site was an act of sabotage by arch-foe Israel and vowed revenge for an attack that appeared to be the latest episode in a long-running covert war.
Israel has neither confirmed nor denied involvement, but Israel public radio cited intelligence sources as saying it was a Mossad cyber-operation.
Israel rarely takes responsibility for attacks like the one in Natanz that Israeli news reports on Monday said could set the Iranian nuclear program back by nine months.
It also announced on Wednesday that it would greatly increase the quality of enrichment - from 20% to 60% purity. Under the nuclear deal, Iran had committed to keep enrichment to 3.67 percent. Rabiei said the damage caused could be quickly repaired. Last July, there was a mysterious explosion at its advanced centrifuge production plant, while in November, Iran accused Israel of assassinating a nuclear scientist who launched its military nuclear program years ago.
Iran's foreign ministry spokesman said Monday that the centrifuges hit by the power blackout were first-generation ones, not more advanced models banned under the nuclear deal.
"I can not imagine that they are going simply to say, "We are back to square one", because square one is no longer there", IAEA Director General Rafael Grossi has said.
"Should not we be sensitive over the incident that happened [on Sunday], eliminating the main part of our enrichment capacities?"
A fissile purity of 90% is suitable for a nuclear bomb. Iran would stop some nuclear work in return for an end to harsh penalties, or sanctions, hurting its economy.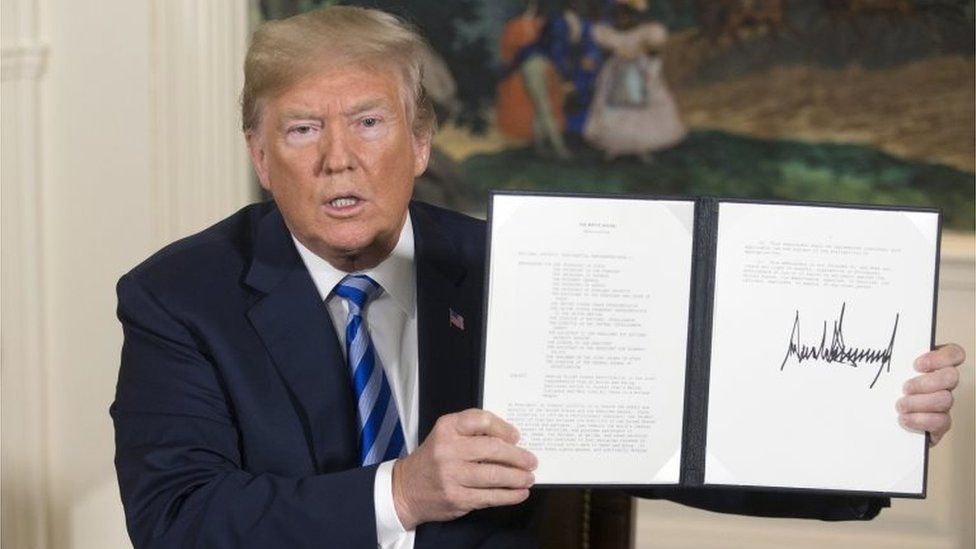 Pompeo: Biden attempting to 'unwind' Trump's establishment of peace in Middle East with nuclear deal
Austin's visit came as the USA looks to restart talks with Iran about reviving the Iran nuclear deal, the JCPOA, after former President Trump pulled out of the agreement in 2018.
For now, the agreement remains in limbo with neither Tehran nor Washington backing down from their positions, and each demanding the other make the first move.
The AIPAC-backed letter called on Biden to address Iran's regional behaviour and ballistic missile programme in any future agreement - issues that go beyond the scope of the JCPOA.
In response, Iran has been loosening commitments to the agreement and enriching uranium beyond the limits set by the pact, bringing the country closer to amassing enough nuclear material to build a weapon.
The New York Times, quoting unnamed USA and Israeli intelligence officials, also said there had been "an Israeli role" in the attack in which an explosion had "completely destroyed" the power system that fed the plant's "underground centrifuges". They estimated it could take at least nine months to resume enrichment there.
Iran's foreign minister warned Tuesday that "acts of sabotage" and sanctions will give the United States no extra leverage in talks on reviving a troubled 2015 nuclear deal.
The talks in Vienna are aimed at reviving America's role in that agreement, which former President Donald Trump abandoned, and lifting the sanctions he imposed.
His successor, Joe Biden, has said he wants to return to the landmark accord.
"There is reason to assess or to believe that the administration will be now even more under pressure to reach an agreement with the Iranians because its their strategic objective to return to JCPOA, because they don't have an alternative policy vis-a-vis Iran", Shavit said.
Those talks in Austria's capital are set to resume Wednesday, with the US meeting European parties still in the nuclear deal, while Iran meets all the remaining parties, including Russian Federation and China.
Here are the rules for Toronto under Ontario's new stay-at-home order
Provincial data showed more COVID-19 patients in intensive care units (ICU) than at any point since the pandemic began. Eileen de Villa, Toronto's medical officer of health, invoked an order banning in-person learning at city schools.