Security forces in Myanmar ratcheted up their pressure against anti-coup protesters Saturday, using water cannons, tear gas, slingshots and rubber bullets against demonstrators in Mandalay, the nation's second-largest city.
A funeral was to be held in the capital Naypyidaw for a young protester who died on Friday after being shot in the head during a rally last week.
Security forces have grown increasingly aggressive against the protesters, who have clashed with Myanmar security forces since the military detained de facto leader Aung San Suu Kyi and other high-ranking officials of the civilian government almost three weeks ago.
Security forces dispersed the crowd with gunfire and other forms of force, leaving two dead and 20 others injured, according to the Irrawaddy news website and a leader of the Parahita Darhi volunteer emergency service agency, Ko Aung.
In the main city of Yangon, several thousand young protesters gathered near the city's main university campus to chant slogans, while hundreds massed peacefully in Mandalay, footage shown by a media outlet showed.
The more than two weeks of protests had been largely peaceful, unlike previous episodes of opposition during almost half a century of direct military rule up to 2011. Witness accounts and photos of bullet casings indicated that the security forces used live ammunition, in addition to conventional riot control equipment and slingshots, a traditional hunting weapon in Myanmar.
UN Special Rapporteur for Myanmar Tom Andrews said he was horrified. "This madness must end, now!"
Yesterday's death triggered a fresh wave of protest and anger.
Suu Kyi's National League for Democracy (NLD) condemned the violence in Mandalay as a crime against humanity.
The death of the anti-coup protester has sent a ripple of grief through the country, days after a bullet struck her in the head during a confrontation with police.
The army says one policeman died of injuries sustained in a protest. The electoral commission had dismissed the fraud complaints. The junta had seized power, baselessly claiming the landslide win for Suu Kyi'a party in a November election was the result of fraud.
Facebook said it deleted the military's main page, known as True News, for repeated violations of its standards "prohibiting incitement of violence and coordinating harm".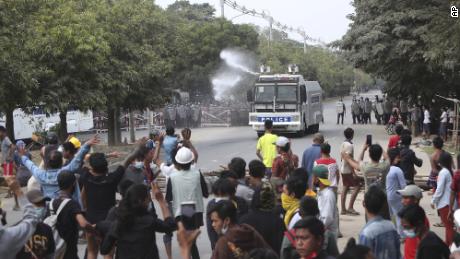 More protests and funeral follow deadly shootings in Myanmar
It said Japan once again strongly urges the Myanmar military to release those who are detained including State Counselor Daw Aung San Suu Kyi and to swiftly restore Myanmar's democratic political system.
Also Sunday, authorities arrested a well-known actor, Lu Min, at his home, according to his wife.
"My hope is that as more and more countries come together in making clear that this is not acceptable", he said, "we will see a change from the military".
On Sunday, the Japanese government said it "strongly condemns" the Myanmar security apparatus for causing casualties among civilians, saying that using force with guns against peaceful protests can never be tolerated.
About 500 police and soldiers gathered Saturday at a shipyard in Myanmar's second-largest city of Mandalay to disperse workers and other demonstrators, sparking an hourslong faceoff.
U.S. State Department spokesperson Ned Price offered his government's condolences on Friday and reiterated calls on the military to refrain from violence against peaceful protesters.
The EU is Myanmar's third-biggest trade partner, but the measures are unlikely to touch trade, as EU states also agreed to seek to avoid measures that could adversely affect the most vulnerable people of Myanmar.
Suu Kyi faces a charge of violating a Natural Disaster Management Law as well as illegally importing six walkie-talkie radios.
France, Singapore and Britain also condemned the violence while UN Secretary-General Antonio Guterres said lethal force was unacceptable.
Governments in Canada, the USA and Britain have imposed sanctions on the new military leaders, and they and other nations have called for Suu Kyi's administration to be restored.
Her hearing is expected on March 1.
Women pose as grannies to get COVID-19 vaccine shot
The country's vaccination drive began in the first week of February with the inoculations of frontline healthcare. The first round of vaccinations will include 60 000 healthcare and other frontline workers.