On Thursday, the county reported 1,745 new cases, the highest number since late August not associated with a backlog in test results. Nineteen county residents have died from the virus thus far.
Benton County adds 53 cases, Morrison County 25, Sherburne County 68, Stearns County 223 and Wright County 92. Health officials said earlier that the county had been averaging about 940 new cases a day at the beginning of October, but is now averaging about 1,200 a day.
The Health Department reported 5 deaths related to COVID-19, which almost tripled the pandemic total to 16.
As of today, there have been 38,160 cases of COVID-19 in OR, with 390 new cases being reported today.
The number of people in Minnesota hospitalized due to COVID-19 is also at a new high point.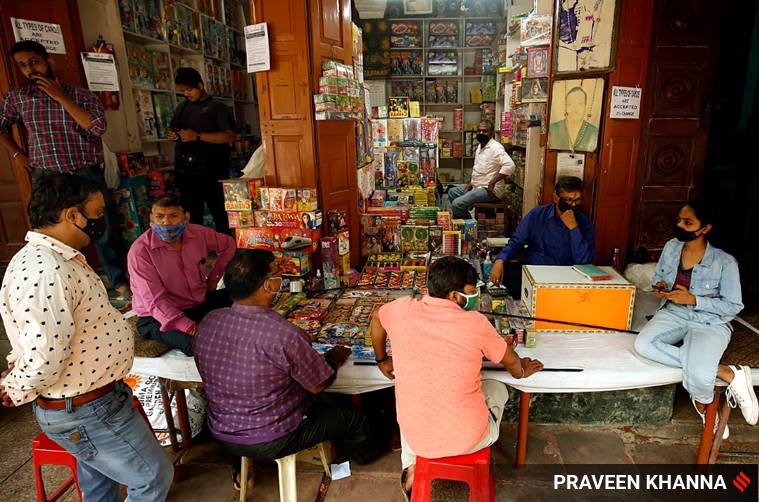 Shopkeepers selling green crackers at a market in Old Delhi on Friday
The commercial urges everyone to ask themselves one simple question when deciding when to wear a mask: "Will I be with anyone I don't live with?" affirming, "If the answer is yes, get behind the mask".
"We know that congregation, especially in college and university settings, yields increased case counts", said Secretary of Health Dr. Rachel Levine.
"It is paramount that we sustain and continue to drive down disease incidence as much as possible in the coming weeks".
The Effingham County Health Department asks everyone to do their part in reducing the spread of COVID-19 by masking up properly, washing hands regularly, maintaining 6ft social distancing, and avoiding large groups. No new deaths were announced Thursday. That kept Oklahoma in the COVID-19 "red zone", Johns Hopkins University reported.
That brings the active caseloads to 2,344 across B.C., with 86 in hospital, 24 of which are in intensive care units.
Daily Cases Hit New High; 100,000 A Day Looms
JHU further reported that Spain has confirmed 1,160,083 COVID-19 cases while 35,639 patients have died from the infection. Altogether 41 states are reporting at least 10 percent more cases compared to the week before, according to CNN report.